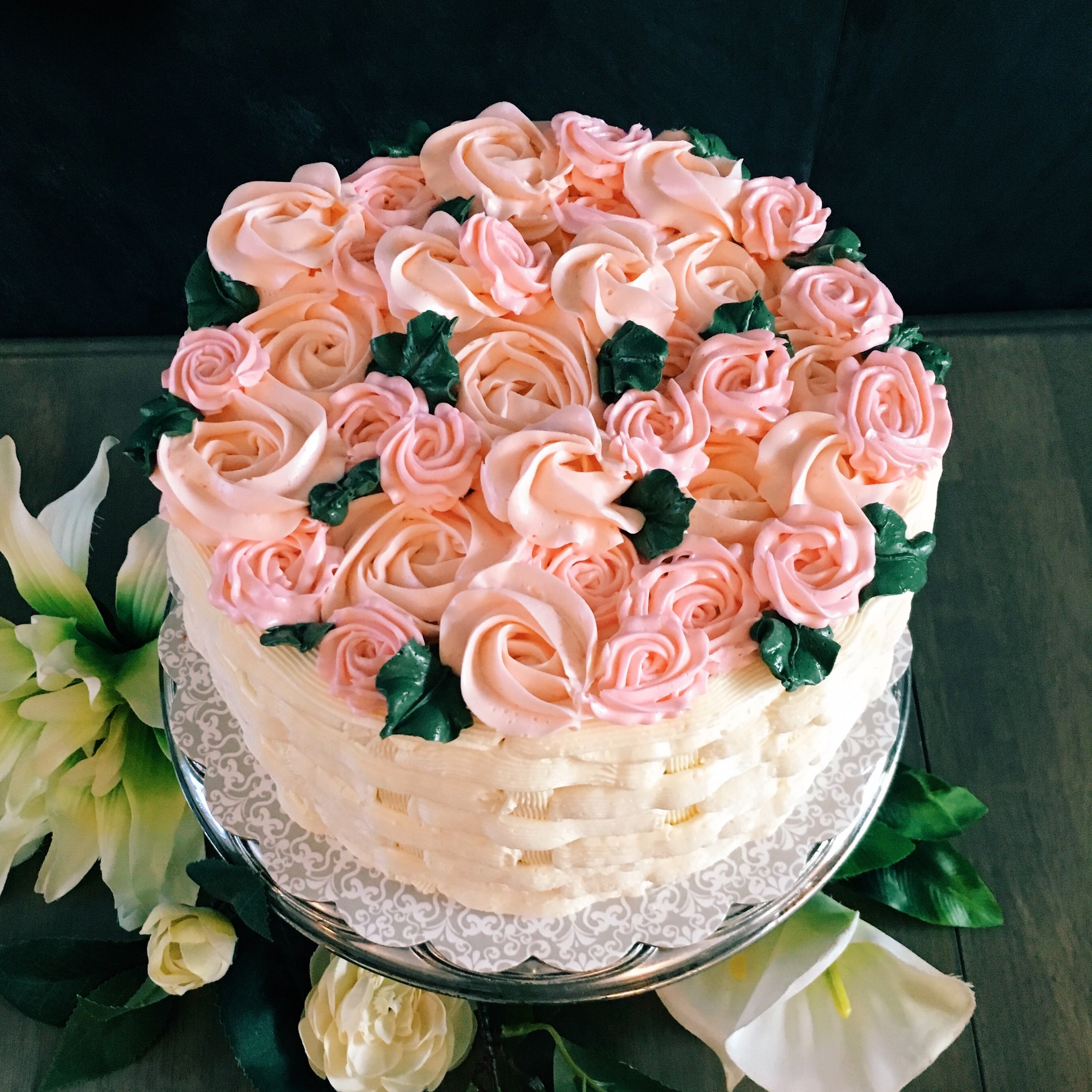 Basic Buttercream Class
Looking for something different to do on a Friday night? Get some of your friends together and join us for a fun evening of cake decorating.
Learn some of the basics of buttercream cake decorating, plus special tips and tricks that Cindy uses. Everything is supplied for you! Each person will leave with their own cake to take home and enjoy. No skills or previous experience required – just bring your sense of humour!
Details:
Classes are held in our commercial kitchen at the Red Deer Lake United Church in south Calgary – 2 minutes west of Spruce Meadows on Hwy 22x. (Map)

Class times: 6:30pm – 9:00pm.

All materials are supplied.

Everyone will go home with their own 6″ flower basket cake.

Refreshments and sweet snacks will be offered.

Please wear comfortable shoes as you will be standing for the duration of the class.

Class sizes are a minimum of 4 and maximum of 8.

Individual registrations are welcome but because there is a minimum of 4 for a class, so consider getting a group of at least 4 friends to register together.
Cost: $55 per person.
TERMS & CONDITIONS
Chartier Specialty Sweets reserves the right to make changes from time to time and without notice in how Cake Decorating Fun Nights operate.
AVAILABILITY & CLASS SIZES
Cake Decorating Fun Nights will be made available as scheduling permits. Class sizes are restricted to a minimum of 4 and maximum of 10 participants (max 8 for Fondant Basics class). Chartier Specialty Sweets reserves the right to cancel/reschedule classes or participants to accommodate class sizes.
MATERIALS PROVIDED
Chartier Specialty Sweets will provide all necessary equipment including aprons, cakes, icings, and other equipment needed for all Cake Decorating Fun Nights. Sweets and refreshments will be served during the event and are included in the registration fee.
END RESULT
Chartier Specialty Sweets makes no promises about the finished quality of any cake or individual experience at the Cake Decorating Fun Nights. No two cakes will be the same as individual creativity is always different!
Each participant will take home their own completed cake at the end of the evening as well as a handout with recipes and cake decorating information for further reference at home.
REFUNDS/CANCELLATIONS
In order to cancel or reschedule a registration 1 week's notice must be provided by phone or email in order to receive a full refund. Any cancellation or change less than 1 week prior to the event will not allow for a refund.
Chartier Specialty Sweets will endeavour to accommodate all registrants and scheduled classes, but cannot guarantee availability and reserves the right to cancel or provide rescheduling options if need be.